| | |
| --- | --- |
| | |
---
Vladislav Delay – Tummaa (The Leaf Label/Inertia)
Posted: 13 Oct 2009 04:31 PM PDT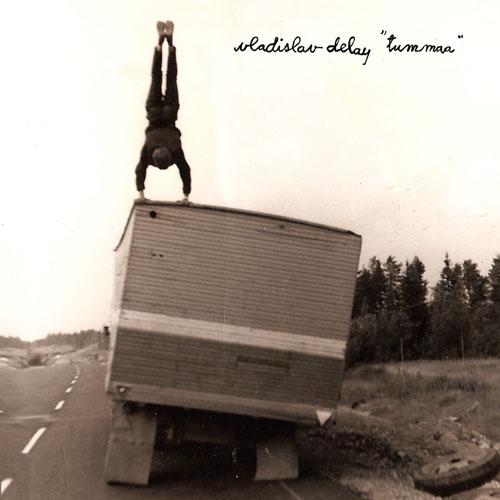 I was pretty unimpressed with the last Luomo album, 2008's Convivial. Polite, jazzy chords over genteel house beats were not really what I was expecting from the doyen of progressive minimalism, even if it was one of Sasu Ripatti's other aliases. This, combined with the fact that he has been finding outlets for his experimentalism elsewhere (in the Moritz von Oswald Trio and AGF/Delay), left me approaching Tummaa with some trepidation. Perhaps it's a side effect of lowered expectations, perhaps it's that my own tastes are just closer to Vladislav Delay than his other outlets, but Tummaa is offering up continual intrigue, miniscule detail and a captivating, sustained mood which I'm really enjoying.
The seven tracks are all extended explorations, averaging around ten minutes each. Ripatti plays with intricate snatches of sound throughout. Opening with 'Melankolia', those previously mentioned jazz leanings are put to good use, with abstract minor key piano impressions forming a bed for the rhythmic shards to flitter around.
'Mustelmia' is the only track that utlilises anything like a traditional dance beat, though here it's fairly murky and spends the last third of the track desperately trying to halt itself from being immersed in a watery grave of phase effects and analogue synth pulses. Elsewhere, rhythms are deployed in extreme slow motion, never quite coalescing into grooves. A range of timbres are swirled around these, from micro-glitches to warm baths of analogue plastic and blobs of bass ooze. There are hints at structure, but just enough to draw you in before devolving into something else, a sonic cat and mouse play. Much of the overall mood approaches ambience, but the amount of movement keeps it from disappearing into the ether. There are nods to the nu-new-age underground, but Ripatti shows us what it can sound like with good production (for the record, I'm preferring this clarity of detail, though some of the psycho-politics are admittedly absent, but I'm coping without them).
With his copious output, the overall high level of quality control demonstrated across Ripatti's catalogue is quite impressive. Tummaa adds to that catalogue and pushes valiantly into its own new territories.
Adrian Elmer
Vladislav Delay – Tummaa (The Leaf Label/Inertia) is a post from: Cyclic Defrost Magazine.
Port-Royal – Dying in Time (n5md)
Posted: 13 Oct 2009 04:28 PM PDT
When listening to Dying in Time – Port-Royal's tenth studio release and third full length recording – innumerable references come to mind. In my case, the audio-memory has a hard time switching off the back-catalogue built from two decades spent listening to electronic music – but this is all said with the best intentions. A quick scan of Port-Royal's past offerings show them to be fully absorbed in the world of synthesizers and programming to the extent where writing and performances involve much more than button pressing and sample driving.
Taking a retrospective view, this focus manifests in a way one would expect of vintage synth-driven music such as Kraftwerk, New Order, Harmonia/Eno, or even Depeche Mode, whilst simultaneously inflecting the contemporary sounds, textures and compositions of artists like Autechre, Underworld, Aphex Twin, or FSOL. Furthermore, Port-Royal also embrace a somewhat post-rock stance – their music could comfortably sit on the shelf between Sigur Ros, Radiohead and Mum.
Possible references and influences aside, this is, as I noted before, all said with the best intentions – for Dying In Time is a fabulously lush and textured album, rewarding the listener with more than the surface may appear to promise. Rhythmically it is often laced with driving, sometimes industrial beats; instrumentally, the record is infused with heavily layered synth chords that appear in a variety of guises, somehow sidestepping repetitiveness and predictability. Add to this a substantial dose of political disaffection – their MySpace page lists their influences invariably as "history of the 20th century (especially history of communism in Soviet Union and Eastern Europe), philosophy, Tupolev, being lost late at night in a strange forest in north-eastern part of Czech Republic…" – and that's just for starters.
This all makes for a resolutely reflective album, regardless of the tempo of any given composition. Opening track 'HVA (Failed Revolutions)' sets the tone of the album – a spoken word vocal sits over dense instrumentation and crackly samples, making for the ethereal aural entrapment of the listener. Further on, 'Anna Ustinova' rings of brightness and defiance, while 'Balding Generation' brings on the bass just the way us synth-heads like it. The last three tracks, 'Hermitage' parts 1, 2 and 3 contain more sparse, at times guitar oriented writing – closing the album with a stunningly melancholy vision.
Melonie Bayl-Smith
Port-Royal – Dying in Time (n5md) is a post from: Cyclic Defrost Magazine.
You are subscribed to email updates from Cyclic Defrost
To stop receiving these emails, you may unsubscribe now.
Email delivery powered by Google
Google Inc., 20 West Kinzie, Chicago IL USA 60610