| | |
| --- | --- |
| | |
---
Fuck Buttons – Tarot Sport (ATP Recordings/Mistletone)
Posted: 19 Oct 2009 02:01 AM PDT
Some of the obvious comparisons are unavoidable, so let's get them over then move on. Animal Collective if they'd grown up listening to Pink Floyd instead of The Beach Boys. Black Dice if they plugged the midi cables in on all their gear so that it all stayed in time. Sonically, Fuck Buttons explores similar territory to those. Where they diversify is structurally. But there's no doubting they are riding the same zeitgeist wave as the other two (though, zeitgeists not being quite what they used to, there's not much fear of any of them crashing into the mainstream, or of taking precedence over any of the other current zeitgeists). Beyond those comparison's, however, Tarot Sport offers its own takes on the sounds of now.
To describe Tarot Sport, you'd probably need to mention the distortion that most of the synth arpeggios and drones are running through. But it's not an alienating noise. It serves much the same function as distortion has come to serve for rock guitars – turning small(er) sounds into lava fuzz. The other distinctive feature, and the one which really sets them apart from others in their 'scene', is their particularly English understanding of rhythm. It's hard to imagine American indie-boys harnessing four-to-the-floor dance pulses so effectively. Fuck Buttons have grown in an environment where Acid House is both historically esteemed and important. The other factor which nails this, and can't be underestimated, is the input of producer Andrew Weatherall. His landmark work producing Primal Scream's Screamadelica is most pertinent to this album. Listen to the tambourine groove and snare rolls on 'The Lisbon Maru', or the 808 snare and claves in 'Phantom Limb' – pure 1990, only here buried in layers of reverb or distortion. Other similarities can be heard in the relatively laid-back tempos, as if later strands of 'ardcore meant very little, and the very linear progression of most of the tracks. What Tarot Sport often feels like is that Fuck Buttons have discovered a trove of Weatherall outtakes from 20 years ago, some with layers of corrosion built up on them, others left out to parch and sunbleach, then attacked them with their own tools, looping and repeating favourite sections, adding grit and noise to create density. 'Olympians' builds layers of drone over a cyclical chord pattern and a electro-motorik beat for 10 minutes into a purely euphoric state, a classic dance comedown mood left when the elements break off in the final minutes. 'Space Mountains' turns every sound into pulsing rhythm via delays and tremolo gates, then rides them ecstatically for 9 minutes.
Tarot Sport received a fairly scathing review in The Wire recently. The main criticisms seemed to be an overall structural banality and the overuse of distortion which has it coming off as 'noise-lite'. I think that these criticisms come from looking at the album the wrong way around. It is, fundamentally, an album of music made for the dance floor. That the sonic parameters have moved so far from established dance templates is testament to forward progress on Fuck Buttons' part. But structurally, it's the endless repetition of very simple building blocks which, like traditional house and techno, give these tracks their drive and enable them to induce that trance-like state which classic electronic dance music always aimed for. Tarot Sport is not watered down noise. It's the sounds of the electro-futurist continuum, only in 2009, the future no longer sounds as mechanical and pristine as it used to.
Adrian Elmer
Fuck Buttons – Tarot Sport (ATP Recordings/Mistletone) is a post from: Cyclic Defrost Magazine.
Vivian Girls – Everything Goes Wrong (In-Fidelity Recordings/Inertia)
Posted: 19 Oct 2009 01:59 AM PDT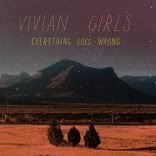 Vivian Girls have been universally hyped on the back of their blend of "50s surf rock, 60s girl groups, 70s punk, 80s noise-pop and 90s lo-fi" (courtesy official Inertia bio). They certainly live up to these descriptions, and their self-titled debut garnered high positions on many of the globe's more fashionable music blogs 'best of 2008′ lists. So how are they sounding in late 2009?
The trio are still very much relying on spiky guitars and cymbal clatter to underpin their hit and run pop songs. Sometimes the references previously mentioned are worn overtly – 'Tension's drum intro could almost be a sample of The Ronettes with the following wall of sound definitely aiming for Spector-esque grandeur. Mostly, though, the band slam through a buzzed up run of bubblegum-pop laced with gravel. 'The End, 'When I'm Gone', 'Out For The Sun'…the tracks run through with backbeat pace and tinny guitar strumming. It's definitely contagious and the massed momentum across the 13 tracks has a head spinning effect.
To my ears, though, there is something of a problem. I remember reading (and I apologise because I can't remember who wrote this and who to credit for it) that you should ask if you enjoy something because you enjoy it, or because it reminds you of something you enjoy. And listening to Everything Goes Wrong, that is the nagging thought that I can't get out of my head. Giving away my age and my antipodean bias (the sounds of which I'm willing to concede probably didn't make their way to Brooklyn en masse), I can't help but think of all the late 80s/early 90s bands I loved which sound remarkably similar to 2009's Vivian Girls. The sprawling harmonies and guitar rush sound remarkably like very early Hummingbirds. The pastiche of 60s pop and noise is straight out of the 80s RatCat textbook (listen to the intro of 'Tension' and compare it with RatCat's 'Killing Joke' – quite spooky). The guitar textures and relatively lo-fi production remind me of early 90s Sydney-indie darlings Swirl. The harmonies remind me of The Clouds…you get the picture. Everything is reminding me of things I love. But the Vivian Girls don't quite have the pop melody chops of those forebears, so haven't yet carved their own niche into my consciousness. Which is not to say that I'm not enjoying Vivian Girls, but I have to admit I'm enjoying going back and listening to those old things even more.
Everything Goes Wrong is a good album. And the repetitions of history point to the idea that every 10 years or so, the music world needs to be flushed out with simple, noisy, unpretentious pop. So I'm going to give Vivian Girls the benefit of the doubt, but with the two disclaimers that I think they'll need to start bringing their own thing to the table in the near future and that, if you are someone who has fallen under the spell, make sure you go and check out some of those other things previous decades have provided.
Adrian Elmer
Vivian Girls – Everything Goes Wrong (In-Fidelity Recordings/Inertia) is a post from: Cyclic Defrost Magazine.
Klimek – Movies is Magic (Anticipate Recordings)
Posted: 18 Oct 2009 11:39 PM PDT
The work of Sebastian Meissner has increasingly veered from the subtly ambient into the lushly cinematic, so this examination of sound and film is hardly a surprise. Aside from the Kompakt-friendly work produced as Klimek, he's also released processed field recordings of Jerusalem under the name Random Inc, glitchy machine rhythms as Bizz Circuits and abstract locked grooves with Ekkehard Ehlers as Autopoesies, and it's these latter guises that seem most relevant here. Movies is Magic is his most detailed and absorbing work to date, and one of the finest releases of the year.
Crucially, Meissner is not concerned here with merely re-contextualising film samples; rather, as the title implies, Movies is Magic explores the manipulative power of sound in film, Meissner performing similar feats on his listeners. Familiar sensations are evoked through the employment of sound/music vaguely associated with stock genres and settings, yet divorced from image or, more significantly, context, having your emotions callously shoved about like this is particularly unnerving. Referential samples show up – the rattly 'western' spurs of 'Pathetic and Dangerous', for example, and the portentous clanging bell on 'For Whom the Bell Tolls' – but these are rare, Meissner preferring to focus on melody, built largely from strings, warped into murky, richly nuanced drones.
There's also an Eisensteinian knack for montage, with frequent shifts in tone that are dramatic but never abrupt. 'Exploding Unbearable Desires' starts out in bucolic John Ford country, windswept harmonica drifting over a barren expanse, but imperceptibly we find ourselves in outer space, with the cold tones and cosmic pulses of science fiction. 'Greed, Mutation, Betrayal' uses sparring trumpets similarly to his opener 'True Enemies and False Friends' for Pop Ambient 2009, yet here they dissolve into a bizarre John Carpenter electro jam, with mumbled noir narration recalling 'Lost Highway'.
Indeed, David Lynch is the most obvious referent throughout, arguably the director to most fully exploit the manipulative potential of sound in film, much of Movies is Magic thick with Lynchian sound-design menace. Meissner's music is richer, however, and the mood more ambivalent. 'Sound of Confusion' mysteriously evokes the poignancy of parting in a Melville detective drama, muddy strings rolled into flickering waves of sadness, while opener 'Abyss of Anxiety' seems to capture all the dreams and fears that the silver screen purports to offer: vast swathes of sound collapsing into a gorgeous sunburnt haze, atop of which Disney's Tinkerbell sprinkles trails of pixie-dust. For all of the convincing conceptual grit, Movies is Magic is ceaselessly beautiful, as intoxicating as the cinema itself, an incredible trip into dark and dizzying imagined worlds.
Joshua Meggitt
Klimek – Movies is Magic (Anticipate Recordings) is a post from: Cyclic Defrost Magazine.
You are subscribed to email updates from Cyclic Defrost
To stop receiving these emails, you may unsubscribe now.
Email delivery powered by Google
Google Inc., 20 West Kinzie, Chicago IL USA 60610