| | |
| --- | --- |
| | |
---
Spatial – INFRA003 (Infrasonics)
Posted: 29 Oct 2009 03:54 PM PDT
Previous releases by anonymous London producer Spatial for his own Infrasonics label garnered widespread praise for their energized contributions to the 'future garage' side of dubstep, and this latest instalment ought to strengthen his case. Again, the tracks all have five-digit numerical titles, a trait of Spatial's to keep non-musical elements to a minimum (while also mirroring the scene's interest in postcodes), and the jagged frenzy of earlier releases has been further intensified.
The clipped, chunky beats of '90729′ are bound in tightly wound digital wire, the beats rigid but confused by phantom afterimages, bright stateside house chords lending warmth to an otherwise bleak vision. '90807′ toys with rhythmic freedoms, but again these are decoys, serving Burial-esque vocal bites and a gloomy, thoroughly synthetic vibraphone melody. '90731′ is jovial, even jubilant by comparison, a sensual female gasp erupting through playful rave stabs and pranksterish breaks. Heck, even the bass hoover seems perky. The clean, sleek lines and pinprick edits are custom built for large systems, striking a near perfect balance of light and shade that should charm all corners of the discotheque. Can we expect a '90210′ at some point?
Joshua Meggitt
Spatial – INFRA003 (Infrasonics) is a post from: Cyclic Defrost Magazine.
Shane Fahey – The Slated Pines (Endgame Records)
Posted: 29 Oct 2009 03:54 PM PDT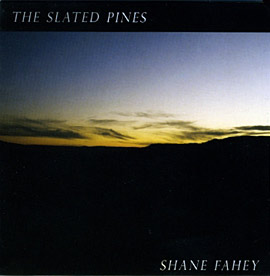 Distance. Time and memory. Transience. Ephemeral. The Slated Pines brings these words to the forefront of my consciousness. These are the haunted radio transmissions of a giant's orchestra: sonorities pan across the stereo field and through the listeners' synapses. Bringing to mind the work of Nurse With Wound, Todd Dockstader, Chris Watson and late-period Main, Shane Fahey has a long and illustrious musical history to rival any of these artists. Starting out in arty post-punk Sydney outfit Makers of the Dead Travel Fast from 1979 to 1983, Shane's trajectory has seen him recording a veritable plethora of Australian artists over the past twenty years at Megaphon studios. Forming Social Interiors with Rik Rue and Julian Knowles in the 1984, he has had over two decades to hone his self-proclaimed 'old school film post-production techniques'; tape manipulations, musique concrete, field recordings and an atmosphere of unsettled sinisterness.
The Slated Pines unravels as a cohesive whole, though the album's seven tracks each boast a distinct voice. There's the howling rigging and sooty-tunnelled chugging of an aging locomotive on 'Mis-spotter' and campfire and cicada filled meditations on 'Scatter Floor For Food'. The 'Book of Trees' is somewhat baffling (in a good way) with it's orchestral interlude complete with childlike glossolalia. There is also a wide variety of imagined apocalyptic variations, from the arcane medieval macabre of Hieronymus Bosch to a distinctly more WWII variety.
by Oliver Laing
Shane Fahey – The Slated Pines (Endgame Records) is a post from: Cyclic Defrost Magazine.
You are subscribed to email updates from Cyclic Defrost
To stop receiving these emails, you may unsubscribe now.
Email delivery powered by Google
Google Inc., 20 West Kinzie, Chicago IL USA 60610